In the quietness of winter, a controversy blows up. Like most local authorities, South Hams District Council (SHDC) is strapped for cash and scouring around for economies. It has 47 public lavatories – more, it is said, than any other comparable local authority – and they all require cleaning and maintenance. Could some of them be changed to pay-on-entry (PoE, but be careful of these acronyms), or passed on to, say, parish councils who (why?) should be able to manage them more cheaply? If that is not available, then there may be no option but closure.
Of the seven public lavatories around the Harbour, the four at the entrance – North and South Sands, Mill Bay and East Portlemouth – would appear to be absolutely vital for the cleanliness of both the bathing water and the beaches, and the initial proposal was that they would all become PoE: of the remaining three, Balcombe Creek would remain as free access, Kingsbridge is already PoE and Whitestrand is soon to become PoE. However PoE turnstiles need electricity: Millbay has none and, as it is under the shadow of trees, a solar panel would not work; so it was proposed to shut the Millbay loos. This is clearly deeply unacceptable but, if SHDC is really that skint, an alternative or additional source of funding will have to be found: a frantic hunt is now on for that.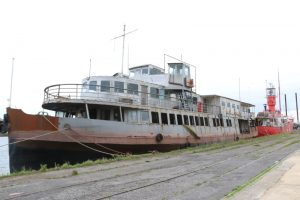 On the water, the pile and the pontoons left by the Egremont have been removed and work has begun to to clear a recognisable channel down the middle of The Bag. The Egremont's former fleet of sailing boats has been marshaled onto a pontoon on the west of The Bag: this has freed up 8 small swinging moorings, which in turn has allowed six deep water swinging moorings to be moved eastwards. It is possible that another couple of deep water moorings could be shifted east in due course. Meanwhile it appears that Sharpness could start to scrap the Egremont in December. Further down the line, outline plans for a new Harbour Office on Whitestrand have been agreed so this could be built in 2 or 3 years' time.
As we start the Christmas season we also look forward to the New Year. I retire from the Harbour Board when my term ends in May. It so happens that I am the last remaining independent Board member who is not Salcombe-based. It would be wonderful if there could be some good applications from other communities around the Harbour.