Summer holidays are, for most of us, over, and we are now recapping the new experiences we have enjoyed, the different people we have met, and the beauty of the world that has been revealed to us as we have travelled. Those who can afford to take holidays and to travel are extremely fortunate, and in general it is good to expand our horizons, increase our understanding of different people and learn more about the world.
However, tourism has also thrown up a number of problems over the years, with the appropriation of cultures, interference into people's lives, overcrowding at popular landmarks, the proliferation of litter, the introduction of foreign money and moralities and the destruction of local community life. Interestingly, this has all come into much sharper focus since the emergence of AirB&B which, with no regulation or limit, is causing dramatic and unsustainable crowding in some of the most popular city resorts in Europe. Venice is suffering, Florence is heaving and, apparently, Barcelona is being destroyed.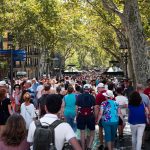 An article in the Guardian on 30thAugust this year described in words and in photographs the demise of Barcelona, in a photo essay entitled 'How tourism is killing Barcelona'.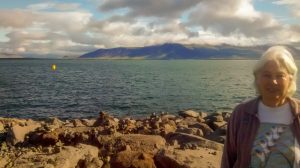 I was reminded of this when I visited Iceland this summer. We had been trying to get there for some years, and finally decided to sail there from Newcastle on a cruise ship, which then stopped at most of the centres of habitation or interest all the way round the island.
The natural features of Iceland are well worth visiting and the people are delightful, many of them displaying a particularly Icelandic wry sense of humour. This is just as well, as the country is having to deal with an absolute explosion of tourism, as visitors from all over the world flock to visit this small northern island. Here are a few of the features that attract the crowds: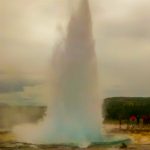 Geysers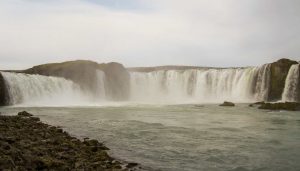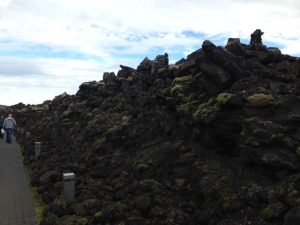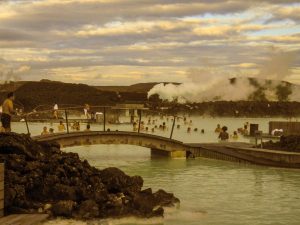 Excuse the strange sepia colour of the Blue Lagoon photo: it was taken through a window.
The natural hot water, full of minerals, is so relaxing and refreshing that we stayed in for over an hour – until we were getting soggy.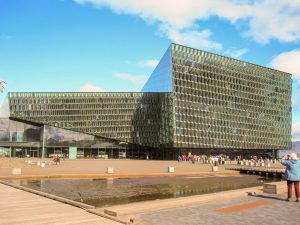 Not all the attractions are natural. The concert hall in Reykjavik is also striking: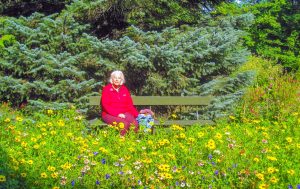 And the Botanical Gardens in Akureyri are bursting with flowers, giving the lie to assumptions about Iceland being a cold inhospitable country.
With so many attractions, it is not surprising that so many people are drawn to this erstwhile quiet country. But the question is: what effect will the explosion of tourism have on Iceland? Is there a danger of killing the goose that lays the golden egg?
I was told that by August, 1.3 million tourists had already visited Iceland this year; and in the small port of Akureyri, apparently, 170 cruise ships had docked over the summer. Given that the total population of Iceland is under 350,000, these figures represent an astonishing level of invasion.
So far, the people appear to be dealing with this mammoth increase in tourism with grace and efficiency; and one reason for this, apart from their natural good nature, is that the same tourism that is threatening to overwhelm the country, has also saved it from bankruptcy. We might think that the bank crisis of 2008 affected us badly, but this was nothing in comparison with what happened in Iceland, when all the banks went bust. For two years, life was extremely grim, and it has taken considerable time for the country to recover to something like a normal economic situation. This has been hugely helped by the influx of so many tourists and the money they bring with them.
So is the over-popularity of Iceland as a tourist destination a good or a bad thing? It's a complex question which requires complex answers beyond the scope of this short blog. There is certainly a danger that some of the sites will become unpleasantly over-crowded during the high season; but Icelanders are relishing the increased wealth which, not surprisingly, is much more to their liking than the situation when money leaked away into nothingness. Incidentally, they dealt with their errant bankers rather more robustly than the UK did, with the result that at least 26 bankers are serving prison sentences!
So much in the country is good; but nothing is perfect, and it is sad that Iceland is one of the very few countries that still endorse whale hunting, in contravention of the UN whaling agreement. When questioned about this, they tend to put at least some of the blame on the tourists who, it is claimed, want to eat whale meat. I've not idea whether this is true or not; but if it is, it means that visitors have the potential to change this, by politely declining whale meat.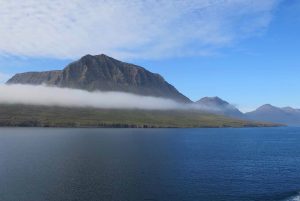 Comments closed