I must start by apologising for the long gap between my last blog and this one. Life has been, indeed still is, extremely full and exciting; but I did say I would try to share a blog every few months. So here is the latest.
I recently had the great pleasure of attending a performance of Duke Ellington's Sacred Jazz Concert, when Guildford's concert hall, GLive, was packed to capacity. The series of songs and jazz pieces were composed by Ellington over a number of years and now form an impressive modern variation on the idea of an oratorio.
Jeremy Backhouse conducted the Vivace Chorus, which I last heard perform when I read some of my own poetry at their May concert last year. For this event, the choir was considerably larger than on that occasion, but even with the increased numbers they showed great versatility and control as they swung from energetic to peaceful and back, bringing life and force to the themes of praise, freedom and the majesty of God.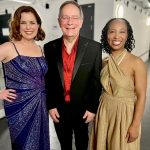 The soloist for this performance was Joanna Forbes L'Estrange, whom I happen to have known since she was a small girl. Now at the peak of her career, she has breath-taking talent and style, and personally I should be happy to listen to her for hours on end. As well as a long list of appearances, first as a member of the Swingle Singers when she was younger, and more recently as a highly sought-after soloist in her own right, she is also a composer of some renown, and has composed a celebratory anthem for the forthcoming coronation, 'The mountains shall bring peace'.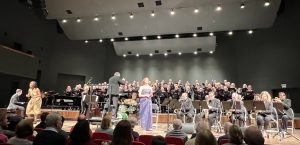 I have always said that I adore all dance, with the single exception of tap dance; but following this Duke Ellington concert I have had to adjust my position and abandon my prejudice, because the tap dancer, Annette Walker, was nothing short of phenomenal. Interpreting several of the movements, she brought what was already a superb performance to glittering life, with dance that, while it was certainly tap dance, also often appeared to be akin to contemporary dance. One of the movements was entitled 'David danced', in which the chorus, jazz band and tap dance melded beautifully; but we were treated to her exquisite interpretations in several other movements as well.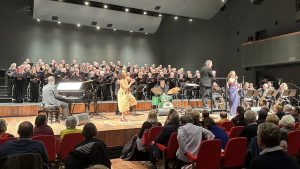 The All Stars Jazz Band underscored and held the evening together with skill and verve. Members of the band were Colin Skinner (Lead alto sax), Alan Barnes (Alto sax / clarinet) Robert Fowler (Tenor sax), Karen Sharp (baritone sax), Steve Waterman (1st trumpet), Freddie Gavita (2nd trumpet), Ian Bateman (1st trombone), Paul Sykes (2nd trombone), Rob Barron (piano), Marianne Windham (bass) and Clark Tracey (drums). I mention them by name because each was worthy of note, and raised the temperature of the evening with their solo passages.
A truly magical and inspiring evening.