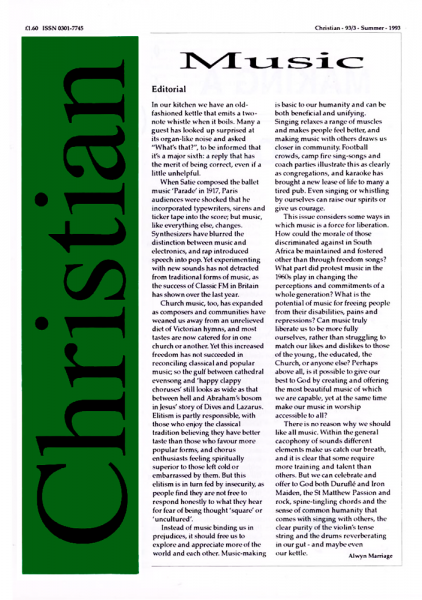 Christian Journal – 1993/3 – Music
Articles
Jonathan Dove: Making a joyful noise
Terri Coyle: To face the music
Maggie Hamilton: Sing freedom!
Gabrielle Power: Quality versus participation?
Tony Jasper: Contemporaty Music and Protest
David Stancliffe: Tuning our lives

Poetry
Mary Grey: Meditation for Annunciation – Lady Day
Stephen Tunnicliffe: Bow in the Cloud
Alex Warner: Keeper of the Bees
Alex Warner: Oh Wisdom

Liturgy 4 new hymns by June Boyce-Tillman
Book reviews
'In tune with heaven', Report of Archbishops' Commission on Church Music
'Euros Bowen. Priest-poet' ed Cynthia & Saunders Davies
'Approach to Murano' Jack Clemo
'Mass for hard times' R S Thomas
Band review  'Iona. Band on the Wall'.