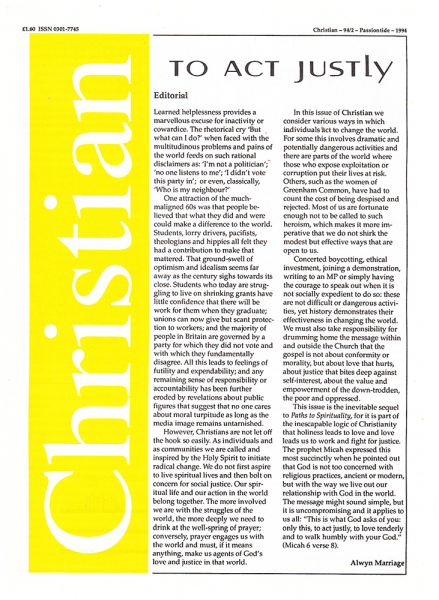 Christian Journal – 1994/2 – To Act Justly
Articles
Shakuntala Banaji: Universal justice. Utopia or reality?
David Haslam: The struggle against apartheid
Andrew Radford: Baby milk action
Dee Price: Light a candle, curse the darkness
Stephen Hancock: Swords into ploughshares
Edmond L Browning: Calling the Church to stewardship
Thomas Cullinan: When you eat this bread …

Poetry
Philip Allin: Ex libris
Virginia Rounding: Surrounded
Anne Richards: Solomon's judgement
Jean Blanchard: A poem for Holy Week
Geoffrey Smith: Under the fell

Liturgy A liturgy for peace in a time of trouble. Doreen Hudson-Tobin
Book reviews
'Witness against the Beast' E P Thompson
'Psalms of patience, protest and praise'. John Bell
'Engaging the Powers' by Walter Wink.