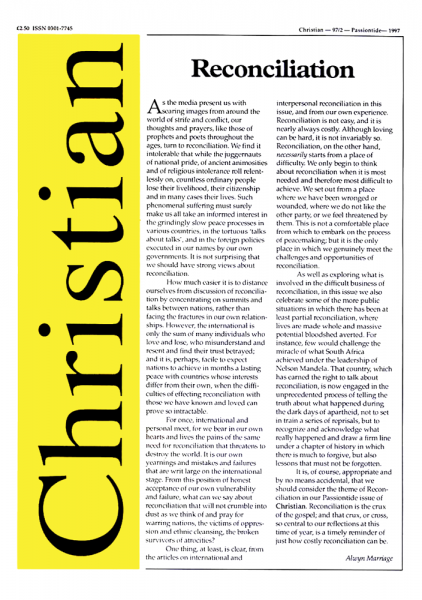 Christian Journal – 1997/2 – Reconciliation
Articles
Paul Oestreicher: Reconciliation. A search for its meaning
David and Frances Hawkey: Small steps to reconciliation
Diana and John Lampen: The truth shall make you free
Shanthi Hettiarachchi: Reconciliation, a religious challenge
Nelson Kraybill: Conflict and Church Decision Making
Mary Jo Radcliffe: A reconciling symbol
Ian Johnson: Learning from Hebron

Poetry
Jean Blanchard: Bird of Passage
Eric Leat: The Last Supper
Margaret Connor: Spring
Updates from earlier issues of Christian

Liturgy for Reconciliation compiled by Ruth Harvey
Reviews
'Peace in Ireland, Two States, One People' by David Bleakley
'Celebration. A story of suffering and joy' by Margaret Spufford.