DEFRA has designated 41 new marine conservation areas (MCZs), bringing the total number to 91, effectively a Blue Belt around the coast of the UK. There are now 175 marine protection areas of various kinds covering 40% of English waters. MCZs protect "wildlife", which is a kind of euphemism for the fish we eat. MCZs protect both the habitat and the level of fishing – by and large successfully.
However, in the middle of all this there is controversy: traditional scallop dredging. Oysters, mussels and scallops have been dredged at least since the 19th century. The dredges are steel frames closed with a metal chain mesh. These heavy frames are dragged along the sea bed and, in the case of scallops, have a gauge big enough to allow smaller shellfish, such as clams, to fall through the mesh.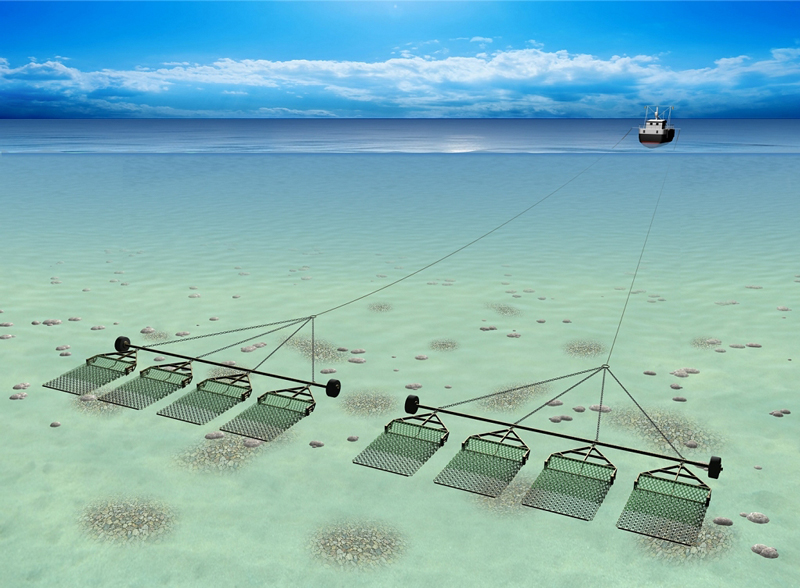 However using a motor boat, rather than a sailing boat, to drag steel frames along the sea bed is a bit like ploughing a field. The sea bed can be left bare and take decades to recover. Oysters are farmed, mussels are grown on ropes, but scallops – except Isle of Man scallops which can swim – live on the bottom, so they can be collected only either dredging or diving. Dredging is cheaper; but diving allows the scallops to be selected, generally leaving the smaller ones until later. And, of course, diving does not affect the sea bed. As a result some people won't eat scallops unless they have been dived. Britannia of Beesands' scallops are "picked by hand by local divers".
The issue for Salcombe is, of course, that the Salcombe fishing fleet does only crab and dredged scallops and, as the scientific literature on the damage done by dredging grows, there is the nagging question about how long dredging will be allowed in increasingly protected sea waters – and indeed, in Salcombe Harbour itself, where some scallop dredging takes place during the winter.
No wonder then that the fishing industry from Scotland to Cornwall has launched a number of vigorous campaigns arguing that dredging is sustainable, whilst campaign groups like Open Seas argue that dredging has "the most severe ecological effect of all UK marine fisheries because of the damage and mortality it causes the seabed habitat and species that live there".
Finally, in case you were wondering, the celebrated brown crabs landed at Salcombe are caught by lowering baited crab pots into the sea. This does not damage the sea bed and you can select which crabs to take.