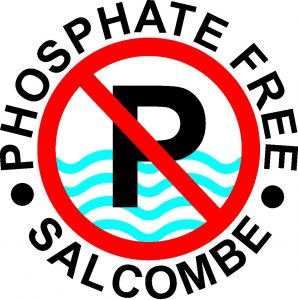 Salcombe Harbour is famous for the quality and clarity of its water. The golden beaches by the harbour mouth are washed by sparklingly clean water and are deservedly popular with visitors. But the water in some of the beautiful inland creeks can have high levels of phosphate and occasionally grow a red algal bloom. This initiative seeks to prevent this.
What is the issue? Phosphates are used in detergents to improve their performance with hard water. But phosphates stay dissolved in water and end up in rivers and the harbour, where they can produce toxic algae. An unusual feature of Salcombe Harbour is that it is an enclosed inlet without a big river to flush it out. Decreasing domestic phosphate use will therefore improve the quality of the water in the harbour and safeguard our oysters.
Why aren't phosphates banned? The United States had problems with phosphates in lakes and banned phosphate-containing detergents over 10 years ago. We are seeking to encourage harbour users to move to phosphate-free detergents now.
Which detergents are phosphate free?
This table lists a number of phosphate-free or low-phosphate detergents.
As at July 2010

Phosphate-free or low phosphate

Not phosphate-free

Dishwashing

Aldi 'Alimat', Ecover, Fairy Liquid, Wave, Clear Spring, Cussons Morning Fresh, Safechem, Sonett, Surcare, W5 dishwasher tablets from Lidl. 

Duzzit, Fairy dishwasher tablets and powder, Finish, Morrisons (except citrus)

Clothes washing

0%: Bio-D, Bold, Clear Spring, Daz tablets, Dreft, Eco-Balls, Ecoleaf, Ecover, Surf, Tesco 'Naturally'

<5%: Ariel, Persil Non-Bio (powder only), Daz powder, Fairy, Morrisons, Persil Hygiene, Surf

Eco-Smart, Morrisons Bio

Liquid handwash

Dove, Imperial Leather, Morrisons, Nivea Shower Cream, Palmolive, Radox

Cussons Carex

Shampoo

Clairol, Dove, L'Oreal, Morrisons Natural, Pantene, VO5, Vosene

Head and Shoulders
What can be done? All detergents have their hazards for water life so the first rule is always to use less if possible. In soft water areas, like the South Hams, detergents rinse out better, so wash cleaner, if you use less.
The second rule is to use phosphate-free. This will prevent phosphates going directly into the harbour. The Royal Yachting Association and others are urging yachts to use phosphate-free detergents and Salcombe Harbour is keen to promote this.
What else is happening? It is very important for us to keep the harbour as clear as possible of phosphates. Because the main source of phosphates in the harbour is household detergents, particularly detergents used by dishwashers, we are exploring ways of persuading local communities around the harbour to reduce their use of phosphates, and of encouraging local shops to stock only phosphate-free detergents. Unfortunately it has not been possible to persuade Tesco or Morrisons in Kingsbridge to routinely stock their own brand phosphate-free dishwasher tablets, but Lidl's W5 dishwasher tablets are phosphate-free, work well and are good value.