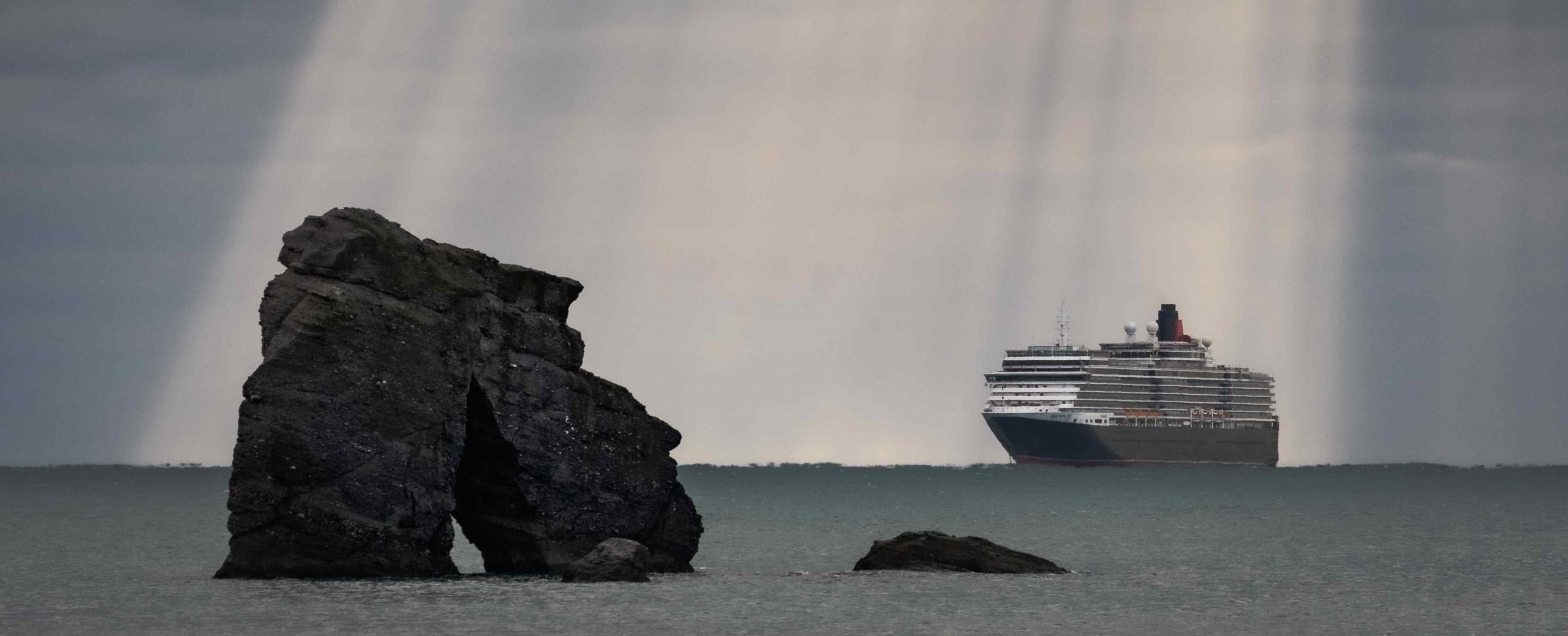 In October 2014, commenting on a super-yacht in Salcombe, I remarked that the Cunard Captain, Inger Klein Thorhauge, who was born and brought up in the Faroe Islands, must have made the ultimate super-yacht visit by taking the Queen Victoria into Klaksvik. And now, as this lovely picture kindly made available by James Day shows, the Queen Victoria has paid a visit locally when she moored off Hope Cove and Thurlestone recently. Jonathan Ward is currently the Captain: he hails from near Dundalk, just south of the Northern Irish border. Cunard has not said why the Queen Victoria was off Hope Cove but the trace of her course suggests she had sought out some water sheltered from an easterly gale to do overboard recovery exercises.
It is now a year since we contracted Covid-19 on 8 March at a literary festival in Cumbria. I well remember the struggle writing last April's blog but most of the effects of the wretched disease are now behind us.
This time last year there were plenty of known unknowns as well as unknown unknowns, but now it's not that difficult to see how this summer is likely to turn out – not the weather, of course, but the Covid constraints on the Harbour and the local community. There are at least seven things we understand with more certainty which will help us prepare:
1. We now know that Covid-19 spreads mainly through aerosols, rather than droplets or on surfaces.
2. This means that the risk of infection outside is generally low, even when large crowds gather, as on Bournemouth beach last June – but obviously not when people are tightly packed, as at Cheltenham races.
3. This means also that indoors, even when relatively well ventilated, is always risky. If you can smell someone's tobacco smoke across the room, you can catch their Covid. Pubs, restaurants, theatres, hotels, public transport, cruise ships and even yachts will struggle to overcome this.
4. We know also that the people most likely to catch and spread the virus are not the elderly, who shelter as much as possible, but the 20-40 year olds, who may not be able to work from home, who may consider that they are not at risk of serious illness, who may be in jobs which require a lot of social contact and team work, who may be in shared accommodation, and who may like a drink or two and partying.
5. We also know that vaccines work both in preventing illness, especially serious illness, and in reducing transmission. And by the mid-summer much of the UK's population should have been vaccinated – but then parts of South Devon are well known for resisting vaccines.
6. However, it seems likely that the EU countries where the British go on holiday will not reach a high level of vaccination before the end of 2021. This is likely to be a restriction for anyone wanting to travel there and for EU citizens wanting to come to the UK. Travel further afield, to the USA, South America or Africa, for instance, could be complicated for many years to come and it is not easy to see when cruise ships will be welcome to pay visits to foreign ports.
7. Finally we know that, like any other coronavirus, Covid-19 mutates and that is likely to require changes to the vaccine and re-vaccination. This means that concerns around Covid-19 are likely to dominate our lives not only this year and for much of 2022, but beyond. We'll be wearing masks for some time yet.
So, this year, if it proves possible to keep to the Government's timetable, although travel abroad looks to be problematic, the holiday parts of the UK should be able to open up in June. Fewer foreign holidays, fewer foreign visitors and more British people holidaying in the UK is the new norm. The Harbour will be busy, the beaches will be full of people (but, if you are sensible, that's not a major risk), local self-catering B&Bs can operate: but hotels, and pubs without good outside space, may have problems.
That at least means that many local businesses, and the Harbour itself, should be able to see a way ahead for a reasonable year. Nevertheless, for some it will be hard.