Review in The High Window, Spring 2023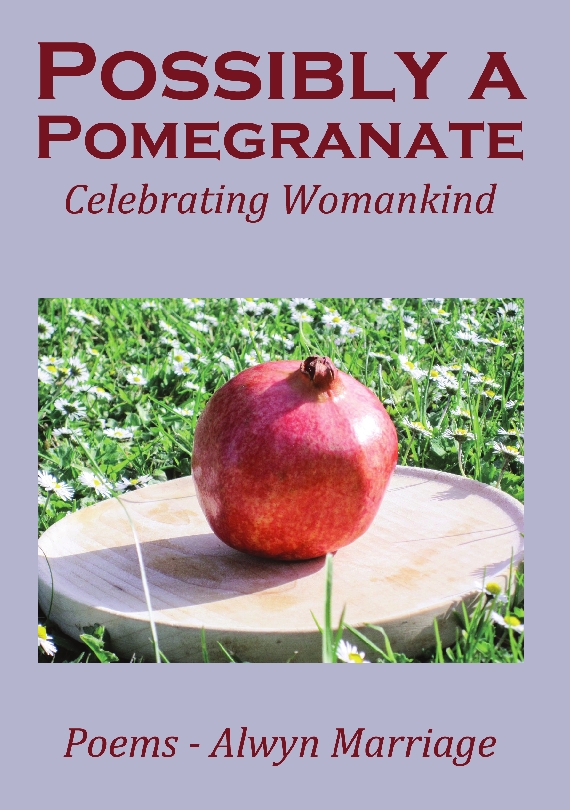 'Fatty / passion pussy / sexy seed bed / and eternal mother'. The opening lines of the poem entitled 'Venus of Willendorf', startling as they are, serve as a pertinent introduction to the subject matter of Alwyn Marriage's latest collection (although, I must confess, I resorted to Google to discover the identity of the Venus in question).
This poem, hiding towards the end of the book, for me exudes pomegranate, a fruit which has long been symbolic of fertility and abundance on account of its plentiful seeds. Written about by poets as diverse as D H Lawrence, Kahlil Gibran, and Eavan Boland, it is a fruit associated often with love and fecundity. And of course, there is the Greek myth of Demeter and Persephone, in which Persephone is bound to the underworld for certain months of the year because she has eaten of its pomegranate seeds.
The enigmatic title of the 94-page Possibly a Pomegranate is as rich as the colour of the fruit, carrying as it does all these associations, and the poem of the same name takes us back to the Garden of Eden itself. The female figure in these page is often unclothed, with glimpses of breasts, and sensuously textured hair and skin.
'Celebrating Womankind' is the does-what-it-says-on-the-tin subtitle. Many of the poems have appeared previously in a wide array of magazines, e-zines, and anthologies, so some seemed familiar, and I was pleased to be reacquainted with them.
The first section, 'SOMEWHERE A CHILD', opens gently with poems about childhood / motherhood. The first poem, 'Saturday's Child' embraces a span of ages:
Somewhere a child leaps from bed, remembering
just in time to open eyes
before tumbling into morning.
Dozing, an old woman tries to shift position; wracked
with pain, she rolls and groans, surprised, and none too pleased
to see another day.
and concludes:
I feel the first faint flutter in my womb.
The poems in this section speak of the poet's childhood and schooldays, including the traditionally rhymed and self-critical 'The Cruelty of Schoolgirls':
We mocked you, Looney, for your far-fetched claims
that your brother was a pop-star and your father rich,
but I'm sorry that I used to call you names.
The memory of what you must have suffered shames
me into realising I was a schoolgirl bitch.
Sometimes the child is a daughter or granddaughter, so various relationships are explored.
Section two is 'PRIMROSE TIME'. Poems of adolescence, going out into the world, discovering physical love; not without humour, as in the (mistaken) speculation on the meaning of the name of the restaurant called 'La Matelote'.
'WOMAN IN THE MIRROR' reflects on the female body, clothed and unclothed, including a beautiful poem entitled Menses, and, written in the specular form, 'Speculate' , which muses about ageing, a theme that haunts this collection throughout. After all the experiences she had weathered in life, the woman in 'Childproof" discovered that:
…what finally drove her to distraction,
persuaded her that she was old and feeble,
was the inability to open jars and bottles.
Similarly, in 'Un-naming', a friend feels no grief for her elderly mother's death until she unpicks the name-tags from the no longer required clothes. Little things which might seem trivial take on huge significance.
'CRISS-CROSS THE LABYRINTH': This section starts with an amusing tale about visiting a Henry Moore sculpture (several poems feature sculptures) in Dumfries and Galloway, then progresses to well-observed pieces about dementia, loss, old age, and death. In 'Lost Scents', AM wonders, in a moment of heightened awareness:
Is it possible
that joys restored are wafting over you
in a dimension I can no more see
now, than you could smell then.
'WINDS OF HISTORY' presents a gallery of strong women, some better known than others. Cleopatra rubs shoulders with, among others, Hildegard (von Bingen, I presume), Lot's wife, and a probably fictitious female pope. I had a happy half hour researching the back story for Elizabeth Prettijohn of the 'Pebbles at Hallsands' poem, a poignant lyric narrative of loss ending in a wonderful image:
and I will hold this stony outcrop
in solitary bitterness
until salt water bleaches
my bones white,
tell the story to the gulls and fulmars,
spread my indignation like a cormorant's wings
drying in the relentless winds
of history.
'RP RIP' is for Rosa Parks, and the rebellious spirit is also commended, earlier in the book, in Nancy, rebel of the primary school classroom, and in an imagined Tracy Emin as a teenager refusing to make her bed. There is bravery in the accounts of a handicapped skier, a refugee, and Grace Darling,
These are accessible poems that benefit from being read aloud. Most are in free verse; a few take a concrete form, where appropriate rather than for the sake of it. Marriage shows us that she is at home with the villanelle and the sonnet, and I've already given an honourable mention to the specular or mirror poem.
Alwyn Marriage's take on all things female is an honest one. It isn't a battle cry for strident feminism, more a sensitive observation of the nature of women in all their flavours, and an appreciation of their achievements, great and small. Seeds of the pomegranate.
The last lines of the final poem, 'Whale', could be seen as a replete summing-up:
…What can I share
with a life so unimaginably huge?
– a vulnerability to wounds,
red blood that drains a life away,
the joyous instinct
that nurses the fruit of our bodies
with the tenderness of milk.
Sue Kindon lives and writes in the French Pyrenees. She recently gained French nationality, but does not intend to forsake the language of her birth. She was Runner Up in the 2021 Ginkgo Prize (for Eco-poetry). Her latest pamphlet is Outside, the Box (4Word Press, 2019).