I have loved poetry all my life, and have been writing it more or less since I learnt to read. This page gives an overview of some of my publications of or relating to poetry, and re-prints a few of my poems that have appeared in magazines and anthologies.
Poetry books
Magazines and journals
There are many publications that are either dedicated to publishing poetry or that include poetry in their pages, and my poetry appears regularly in these. As magazines and journals have a short shelf-life, it is worth reproducing some of the poems in full.
more details
Anthologies
The advantage of anthologies is that they tend to be around for many years, rather than having a short shelf life. My poetry has been included in many anthologies.
more details
On-line
Poems published on-line can be read by people all over the world.
more details
Prizes and awards
I have been extremely fortunate in winning a number of poetry competitions and have been placed in many others.
Here is one that provided me with a cash prize and a lovely trophy to enjoy for a couple of years.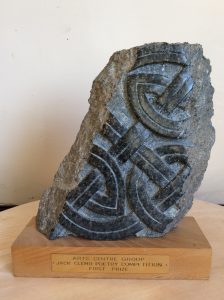 more details
Readings
I very much enjoy sharing my poetry with others by performing to live audiences in Britain and around the world.
more details
Readings on video
Some of my poetry performances have been videoed, so you can, if you like, watch me performing from the comfort of your home.
Click here to watch some poetry videos
Women's Literary Culture and the Medieval Canon
At the end of 2015, Diane Watt, Professor of Medieval English Literature at the University of Surrey, asked if she could publish my long poem, Chiara, on the blog of the inter-university, international project supported by Leverhulme, Women's Literary Culture and the Mediaeval Canon, to join the project as an Associate Member, and to contribute further poems about mediaeval women every few months.
So far the following poems have appeared on their blog:
These and other poems were published in April 2017 in In the image.
Workshops
I am available to lead workshops – please contact me for details.
Winchester Cathedral, 2013
Cheltenham Poetry Festival, 2011
Poetry Day, Paignton, 2011
Guildford Book Festival, 2010
Residencies
Poets are sometimes invited to take up short or longer residencies, and I have greatly enjoyed these.
Poet in Residence for Winchester 10 Days Arts Festival. 2013
with Ballet Rambert choreographer and dancers, Dartington, 2011
Radio
I have found it difficult to be organised enough to catch the programmes when my poetry is on radio, but here are some details.
featured poet on Romanian radio, September 2015
extracts from Epiphany were read on BBC World Service.
broadcast on Romanian National Radio, May 2012.
Romanian radio has broadcast my poetry on several occasions, and I was interviewed on radio in Western Australia early in 2016, but have not managed to acquire recordings.
To hear an interview with me that was broadcast on local radio in Devon, click here.
Lectures and articles on other poets
I lectured on English poetry at the University of Surrey, where I was also Literature Coordinator and organised the Annual University Poetry Lectures.
I have recently returned to the University as a research fellow in the Department of English.
I have given guest lectures on T. S. Eliot, Alice Oswald, Jack Clemo and others.
Magazine articles by me on the poet Alice Oswald have been published in Resurgence and in Devon Life:
Judging poetry competitions
I have been the judge for a number of poetry competitions, including
South Hams Writers competition, 2016
1000 monkeys poetry competition, 2016
BigUp poetry competition 2014
South Hams Writers competition, 2015
Devon Limericks competition, Kingsbridge Gazette, 2013
London Festival Fringe Awards, 2011
Barnett Open Poetry Competition (three years running)
Jack Clemo Poetry Competition (run by the Arts Centre Group)
Guildford Cathedral Poetry Competition
Computer poetry and jazz
The group, Sunflowers, was active in the late 1970s creating computer-generated poetry using Bard 0 and Bard 1D computer programs. The poetry was performed to jazz accompaniment, also composed by the group. The jazz quartet gave performances at a number of venues, including the Edinburgh Festival, and was featured on BBC radio.
The members of the group were:
Robin Shirley: voice autoharp, percussion
Gus Garside: voice, guitars, electric bass
Ranald Macdonald: flutes, saxes, voice, percussion
Alwyn Marriage: voice, pedal organ, recorder
The skill was to feed in to the computer phrases and clauses that would work well together whichever order they came out in.
I have written more about this here: 'An early adventure in computer poetry', while this article by John Lansdown provides additional technical details.
Publishing other poets
In recent years I have been pleased, as Managing Editor of Oversteps Books, to publish many other poets.
As Editor of Christian Journal (1991-1998), I was fortunate to be in a position to raise the profile of contemporary poetry by giving space and prominence to a wide selection of good modern poets.
Sermons about my poetry at Salisbury Cathedral
Canon Jeremy Davies preached on Uncertain Advent on 8 December 2002
and on Logos on 28 December 2003.
Future bookings
I am always pleased to consider invitations to read at festivals and workshops or to undertake poetry residencies. Please contact me.
Membership
I am a life member of the Poetry Society and, more locally, a member of the Devon Company of Poets and Moor Poets.