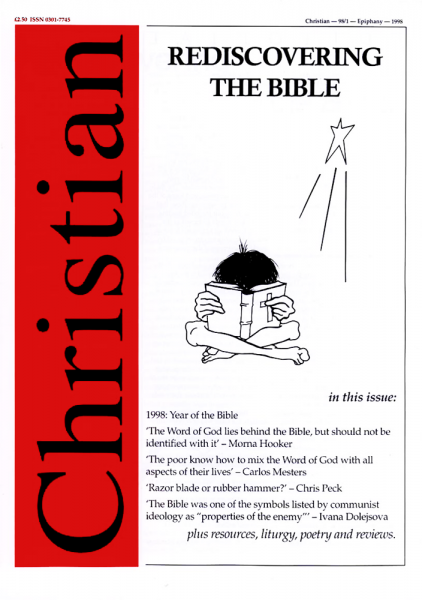 Articles

Colin Greene: Rediscovering the Bible
Mona D Hooker: The words and the Word
Carlos Mesters: The Bible in the hands of the poor
Chris Peck: Razor blade or rubber hammer?
Ivana Dolejsova: The Bible as a tool for resistance
Robert Beckford: Prayer meeting hermeneutics
Kristin Ofstad: Assembling the picture
John Henson: Introducing One, version of the New Testament

Poetry
Louise Swanston: A Prayer for all Seasons
Audrey Smallpiece: New Song

Liturgy prepared by Graham Maule
Video review 'The Story Keepers', Mowbray
Book reviews
'James, Brother of Jesus' by Pierre-Antoine Bernheim
'Grace and mortgage' by Peter Selby.
More info →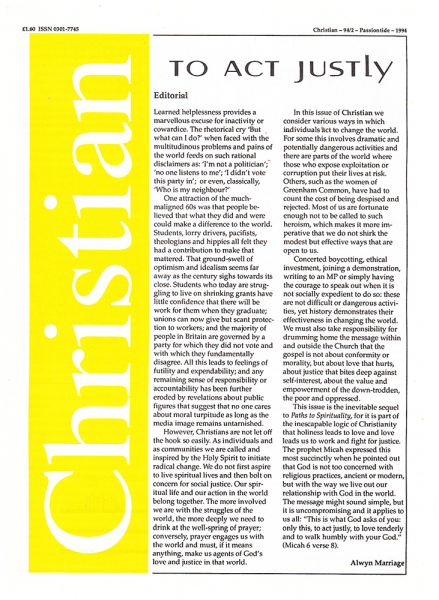 Articles
Shakuntala Banaji: Universal justice. Utopia or reality?
David Haslam: The struggle against apartheid
Andrew Radford: Baby milk action
Dee Price: Light a candle, curse the darkness
Stephen Hancock: Swords into ploughshares
Edmond L Browning: Calling the Church to stewardship
Thomas Cullinan: When you eat this bread …

Poetry
Philip Allin: Ex libris
Virginia Rounding: Surrounded
Anne Richards: Solomon's judgement
Jean Blanchard: A poem for Holy Week
Geoffrey Smith: Under the fell

Liturgy A liturgy for peace in a time of trouble. Doreen Hudson-Tobin
Book reviews
'Witness against the Beast' E P Thompson
'Psalms of patience, protest and praise'. John Bell
'Engaging the Powers' by Walter Wink.
More info →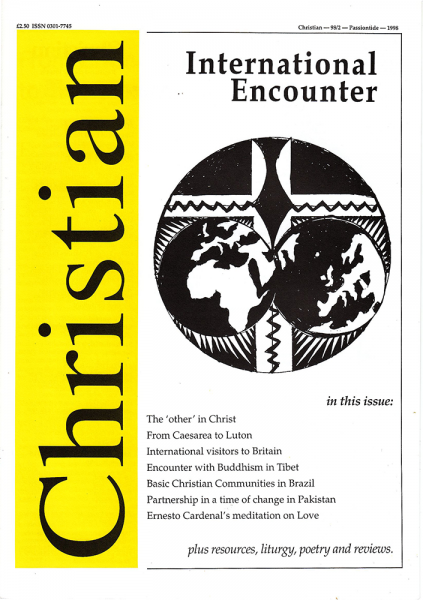 Articles
David Cowling: From Encounter to Transformation
Jeanne Hinton: Experiencing the Church in movement
Margaret Opie-Smith: More than strangers on our doorstep
Sue Keegan von Allmen: Making mission meaningful
Mark Sanger and Heinz Hunke: Meeting in Cyberspace
Asha Cornelius: Partners in a time of change
Ann Dew: Turning the prayer wheels
Simon Barrow: Encountering otherness in Christ

Poetry
Ann Lewin: Unwelcome visitor (after breast cancer)
Ann Lewin: Marked for life
Ann Lewin: Vulnerable
Margaret Connor: Late Spring

Liturgy Encountered in God – A Meditation. Ernesto Cardenal
Book reviews
'Dancing on the Edge' by Richard Holloway
'God and the web of creation' by Ruth Page.
More info →