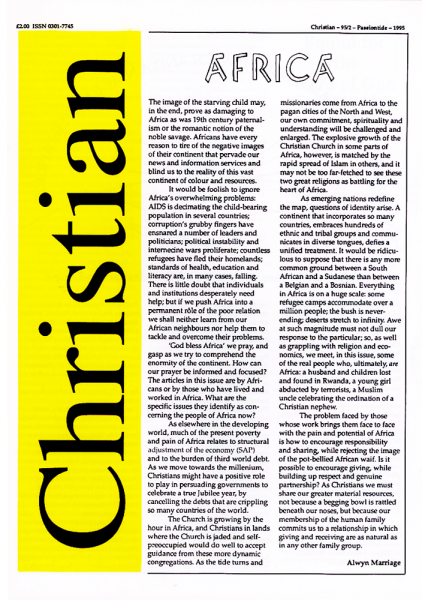 Christian Journal – 1995/2 – Africa
Articles
John Pobee: Daring to dream a new heaven and a new earth in Africa
Jeremy Pemberton: Bound for the Word of God
Julienne Munyaneza: Miracles do still happen
Denise Ackerman: Witness in South Africa
J A Azumah: Islam and Christianity in Africa
George Bebawi: Witness in Egypt
Carol Bebawi: Dialogue in Egypt
Jennifer Chiwela: The effect of Structural Adjustment Programmes on women in Zambia

Poetry
Makerere School of Fine Art: Garbage Birds
Margaret Connor: Gordon's Garden Tomb
Margaret McAllister: Fruit harvest
Dinah Köjö: I saw No One

Liturgy for the Healing of the Nations in Africa. Devised by Janet Hodgson
Book reviews
'Faces of Jesus in Africa' ed Robert J Schreiter
'The interpretation of the New Testament, 1861-1986. Stephen Neill & Tom Wright.