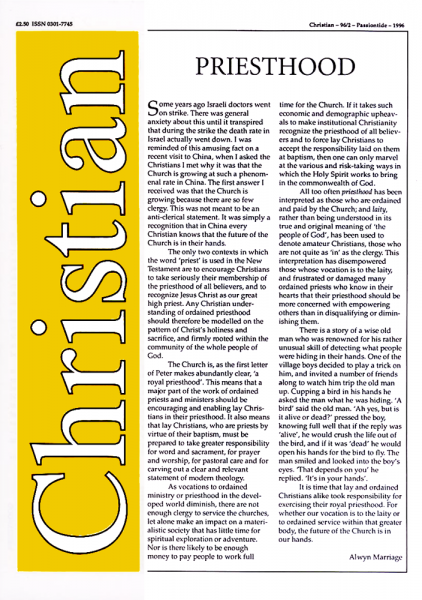 Christian Journal – 1996/2 – Priesthood
Articles
Chris Peck: deluded servants?
Janet Wootton: The Priesthood of all believers
David Thompson: Lay Presidency at the Eucharist
Christine Farrington: Priesthood in post-denominational China
Michael Roberts: Priesthood
Ian Fraser: Papermill Priest
Maggi Dawn: Diary of an Ordinand
David Barlow: moving out
Antoni Pospieszalski: A personal view of priesthood
Sr Annaliese: A response to the challenge of 'The People of God'

Poetry
Jeremy Young: The Image and the Man
Jeremy Young: Surprised by angels
Geoff Smith: Prayer Walk

Liturgy I am the Resurrection. Compiled by Alwyn Marriage
Book reviews
'The Candles are still Burning' ed Mary Grey, Andrée Heaton & Danny Sullivan
'Angel and me' by Sara Maitland
Cassette review 'Peace till the moon fails' St Michael's Convent, Ham Common.