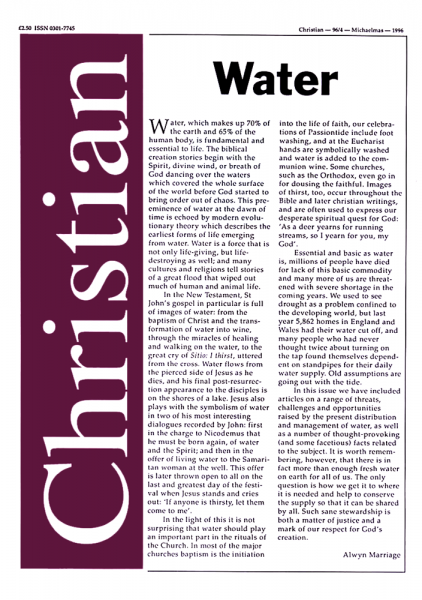 Christian Journal – 1996/4 – Water
Articles
Brian Clarke: Water – under pressure
Simon Barrow: Water. Gift or Commodity?
Richard Fernandez: Meter madness
Ray Heslop: Thirsty cities and the sanitary crisis
John Gould: Harvesting the rain
Success stories: Pumps in Nepal; Pits in Ethiopia
Ama Annan: Water and Conflict in the Nile Basin
Stephen Verney: Rivers flowing through the desert

Poetry
Mike Perks: Granny is an Icon
Margaret Connor: Meeting place

Liturgy Water of Life, compiled by Michaela Morris
Reviews 'Retrieving Fundamental Theology' by Geoffrey O'Collins SJ
'Human Rites' ed Hannah Ward and Jennifer Wild
'The Cured Arno' by Jack Clemo.