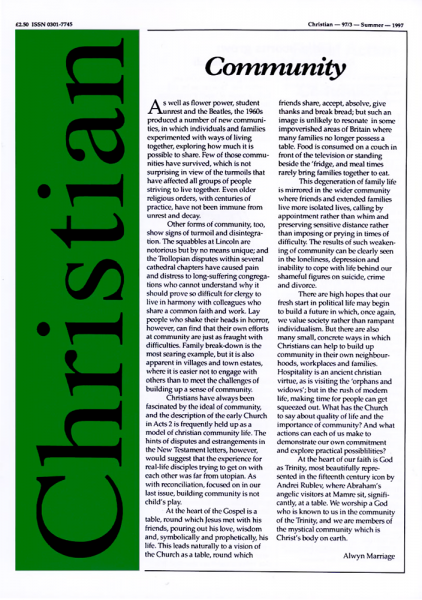 Christian Journal – 1997/3 – Community
Articles
Jeanne Hinton: Little acorns grow
Gillian Maher: Social Action to Community
Alan J Riley: Is there a European community?
Jennifer Wild: Community after Community
Colin Evans: The value of soap
Brett Webb-Mitchell: Standing in need of prayer
Gemma Simmonds, IBVM: Religious community
Jean Mayland: Reconciling the broken community of women and men in the Church
Jean Vanier: Community, a place of healing and growth

Poetry
Ivy Russell: Eyes of Love
Andrea Mitchell: My cup is full
Sophie Moore: Cook me up a poem
Frances M Thomas: Prayer

Community Liturgy by Kate McIlhagga
Reviews
'The Sign of Love' by Tim Gorringe
'I tell you a mystery' by Johann Christoph Arnold
'Theology and Sociology. A reader' ed Robin Gill
'Dictionary of Feminist Theologies' ed Letty Russell and Shannon Clarkson.